Mel Bound – This Mum Runs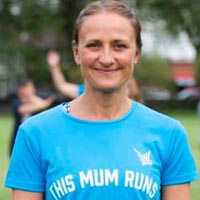 Mel Bound is the CEO and founder of This Mum Runs, the worlds' largest digital, mobile and in-person running community for women – with a vision to empower the 1 billion inactive women and girls worldwide to enjoy the life-changing benefits of being active at every stage of their lives.
A digital entrepreneur, movement builder, regular speaker and advocate for women's wellbeing, Mel leads an ambitious team that aims to tackle the stubborn inequalities around women and girls' physical activity using an innovative community model and a pressure-free ethos. Mel is also the creator of the Run30 App – "the best running App in the UK" – designed to engage women and girls who are inactive through accessible and inclusive programmes, content and communities.
She is a Fellow of the Facebook Community Leadership Programme, recognised as one of the Top 16 Most Impactful Community Leaders in the world, listed in the Maserati 100 Top 100 British Disrupter Entrepreneurs and a previous winner of the Womens' Sport Trust "Grassroots Gamechanger" Award.
Web: thismumruns.co.uk
Instagram: @thismumruns
Facebook: @ThisMumRunsUK