Ceri Rees – Wild Running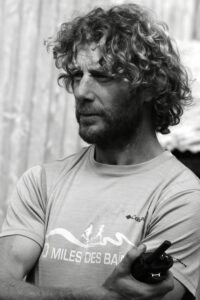 It took an 800km walk across Spain in 2008, the Camino Santiago, which offered glimpses of changing landscapes for Ceri Rees to finally quit his job as a newspaper journalist. It flashed up the need to do something he loved doing. So in 2012, he set up his own business called Wild Running and was given an UnLtd social entrepreneur's award.
The aim was simple: to take unemployed people out running on Dartmoor once a week. They provided the transport and picked people up on route. He knew first hand about the benefits of off-road running for boosting resilience and wellbeing, as well as improving your running longevity. Ceri had little cartilage left in his knees (a legacy of his years playing rugby) and found road running a challenge. He felt he did not need to gather any scientific evidence to know about these benefits, as he'd already spent a lifetime acquiring the experience.
Today, Wild Running organises night races with the Wild Night Run Series, which aims to support several local charities as well as other races in Southern England. Wild Running also offers inspiring bespoke guided trail running weekends and challenges and the Wild Running Festival.
The end goal is not to chip away at your 10k time but to enjoy the process of running, to connect with the landscape, sometimes in a transformative way which will open people's eyes to new possibilities.
It gives us great pleasure to welcome back Ceri Rees and Wild running for the 2023 show.
Web: Wild Running
Facebook: @wildrunninguk
Instagram: @wildrunninguk