Lorna Cullen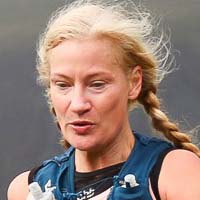 I'm 54, an accountant and started running when I was in my 40s to try and improve my mental health. I started entering 10k races, half marathons, a half Ironman and worked my way up to the 55km Lakeland Ultra.
In my late 40s I started to dream of doing some form of self-supported running adventure. The idea of running from John o'Groats to Land's End began to form in my mind. Two years ago this morphed into the idea of running it via the three mountains of Scotland, England and Wales. Following a few years of issues with hip flexors, Achilles and IT band, I hired a triathlon coach with my mind set on a multi-disciplinary approach to minimise further injuries. I love swimming, cycling and going to the gym so it was natural to include these in my training and life.
My husband and I live near the Peak District so are lucky enough we can hop on a train to Edale and run and camp there in the hills.
Going through Menopause and having previously suffered with anxiety it was important to me that my adventure raise awareness of these issues and bring them more into everyday conversation.
Web: Lorna.tri
Facebook: Lorna Cullen
Instagram: @lornaruns_3_peaks_jogle