Resources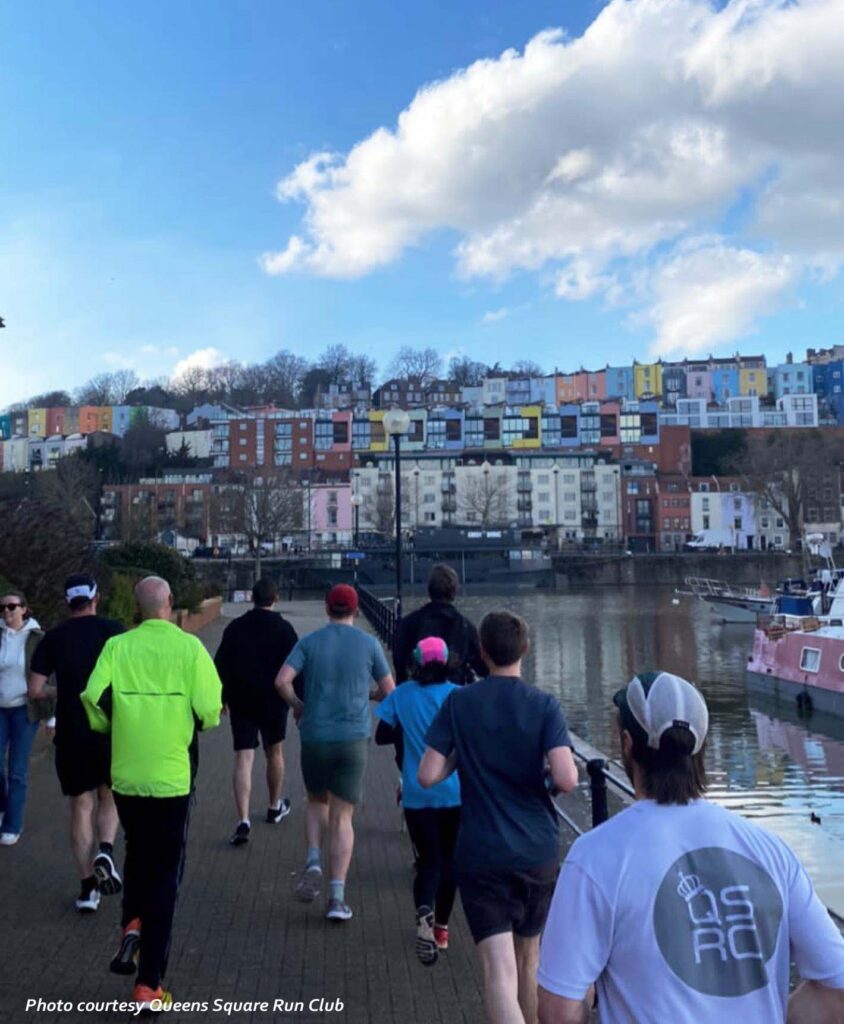 Running in Bristol – Getting Started
Running in Bristol – getting started will have a positive impact on your physical and mental health. If you're based in the Westcountry and want to begin your running journey, Bristols's a great place and there are plenty of resources at your disposal including free courses and coaching.
In this article, we'll provide you with tips and suggestions to make sure you get started on the right foot and some resources to support your new inspiration.
Invest in the Right Gear
The first step to getting started with running is to invest in the right gear. You don't really need much but a good pair of running shoes is helpful in preventing injury and providing support and cushioning. It's also a good idea to wear comfortable clothing that is designed for running and will help you stay cool and dry and chafe free.
Start Slowly
It's important to start slowly when you first begin running. Begin with short distances, such as a 10-15 minute run, and gradually increase your distance and pace as you become more comfortable. It's also a good idea to incorporate walking breaks into your runs to allow your body to rest and recover.
Find a Running Buddy
Having a running buddy can be a great way to stay motivated and make running more enjoyable. You can find a running partner by joining a local running group or club, or by asking friends or family members if they would like to join you on your runs. There's a Running Buddy Bristol Facebook group or websites like Jogging Buddy can be useful.
Join a Running Group or Club
There are plenty of running groups and clubs in Bristol that cater to runners of all levels, from beginners to experienced runners. Don't be shy. Joining a running group or club can provide you with support, motivation, and guidance, as well as the opportunity to meet new people and make friends. See the list below of a few clubs and groups. This Mum Runs Bristol offers free organised weekly runs in some areas of the city. Check website for details. No booking necessary.
Choose Your Running Route
Bristol is a beautiful city with plenty of scenic running routes to choose from. Whether you prefer running through parks, along the river, or through the city streets, there are plenty of options available. It's a good idea to plan your route before you start running, so you know where you are going and can stay safe.
Set Realistic Goals
Setting realistic goals is essential to staying motivated and making progress with your running. Whether you want to run a 5K or a marathon, it's important to break your goals down into smaller, achievable steps, and to celebrate your progress along the way.
Stay Hydrated and Fuelled
Running can be a strenuous activity, and it's important to stay hydrated and fuelled to maintain your energy levels and prevent injury. Drink plenty of water before, during, and after your runs, and eat a healthy and balanced diet that provides you with the nutrients and energy you need to perform.
Keep Track
Its a great idea to keep track of your runs so you can see your progress. There's lots of apps like Strava. Checkout our Running Apps to Help You Get Started.
Rest and Be Happy

Its important to build in rest days especially in the beginning as your body is adapting. Take it easy and enjoy the experience, its fun to run as well.
NHS Couch to 5K is a free running plan for beginners. It takes you from walking to running in 9 weeks and includes weekly podcasts and an app and you can pick from a selection of personal trainers.
Running and Walking Clubs and Groups
Looking for local sports clubs offering running groups for beginners in Bristol and Bath? Check out these popular clubs and groups:
Checkout our comprehensive list of running clubs and running groups in the Bristol and Bath area.
Parkruns in the Bristol area:
list of parkruns in Bristol along with their locations and runs take place every Saturday at 9:00 AM.
Ashton Court parkrun – located in Ashton Court Estate, Long Ashton Road, Bristol, BS41 9JN.
Eastville parkrun – located in Eastville Park, Fishponds Road, Bristol, BS5 6PX.
Pomphrey Hill parkrun – located in Pomphrey Hill Playing Fields, Mangotsfield, Bristol, BS16 9NF.
Chipping Sodbury parkrun – located in Chipping Sodbury School, Bowling Road, Chipping Sodbury, Bristol, BS37 6ES.
Thornbury parkrun – located in Thornbury Leisure Centre, Alveston Hill, Thornbury, Bristol, BS35 3JB.
Windmill Hill parkrun – located in Victoria Park, Bedminster, Bristol, BS3 4BN.
Little Stoke parkrun – located in Little Stoke Park, Little Stoke Lane, Bristol, BS34 6HR.
Severn Bridge parkrun – located in Severn Bridge Country Park, Aust, Bristol, BS35 4BH.
Parkruns in the Bath area:
Bath Skyline parkrun: This parkrun takes place in the beautiful National Trust site of Bath Skyline. The course has stunning views of Bath, including the Royal Crescent, and is a mix of off-road trails and grass.
Bath Riverside parkrun: This parkrun takes place along the River Avon and the Kennet and Avon Canal. The course is mostly flat and is entirely on tarmac paths, making it suitable for buggies and wheelchairs.
Bath Victoria parkrun: This parkrun takes place in the historic Victoria Park, which is located in the city centre of Bath. The course is a mix of tarmac paths and grass and includes a few hills.
Bath Skyline junior parkrun: This parkrun is a 2km event specifically for children aged 4-14. It takes place in Bath Skyline and follows a similar course to the main Bath Skyline parkrun.
Southwick Country parkrun: Although not technically in Bath, this parkrun is located just outside the city toward Trowbridge. The course takes place in Southwick Country Park and includes a mix of grass and off-road trails.
These parkruns are a great way for people to get started with running, as they are free and open to runners of all abilities. They also provide a supportive and welcoming environment, with volunteers on hand to guide runners and cheer them on. Additionally, they are a great way to meet like-minded people who share a passion for running, and to explore the beautiful parks and landscapes in and around Bristol.
Running Shops in Bristol
Dedicated local running shops that can advise on gear, events and resources in the Bristol area:
These running shops offer a variety of running gear, apparel, and accessories to help beginners and experienced runners alike with their running needs.
Running Shops in Bath
There's a few running shops in Bath that offer a range of running gear, shoes, and accessories.
These shops offer a great selection of running gear and accessories to help you get started or take your running to the next level.